Living Tiny
Ron and I are Long Island, New York natives and have been in each other's lives for the last decade. 
A few years ago, we decided to take our lives into our own hands and make some pretty radical changes. We fell in love with a dream on YouTube and watched people living a nomadic lifestyle traveling the country in their vehicles.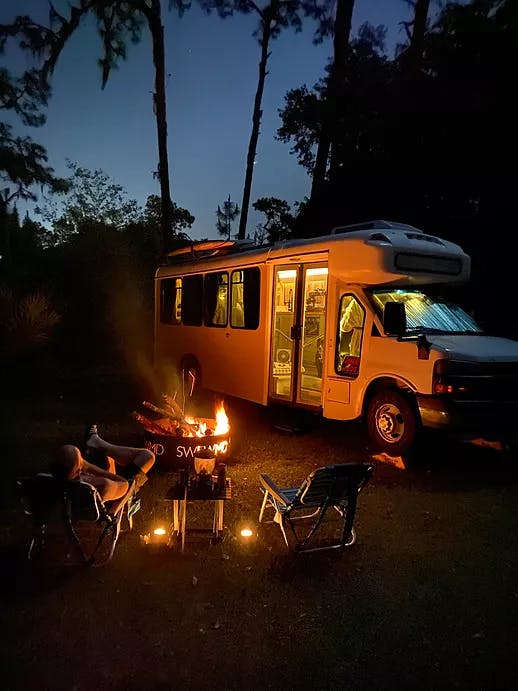 Neither one of us knew anything about living tiny, downsizing or how to actually convert a bus into a home. Honestly, we thought we were insane for even thinking that this is something that we could achieve. However, the one thing that we did know, and we were certain of, we wanted to live intentionally, live a life of purpose and we wanted to travel.
The more videos we watched, the more we fell in love with the concept.
In July 2019, we purchased a shuttle bus and decided we would follow our dream and jump feet first. Neither one of us had much contracting experience so we had to teach ourselves everything you need to know about building a house.
 Sounds wild right?
From this day forward, we spent day after day building our little home on wheels. In January 2021 we moved out of our home of four years, out of our comfort zone and into our bus with our dog and two cats. Three months later we left Long Island and hit the road.
Our bus is called "Vida Nova Bus" which means new life in Portuguese, to give ourselves exactly that. We learned a lot about ourselves changing practically everything about our "norm". True strength and resilience were highlighted and we challenged our relationship quite a bit. We pushed ourselves past our comfort zones and relied on each other quite a bit. It's not easy to live in 135 square feet with your partner, there's boundaries that we never knew existed and constantly sharing the same space meant we needed difficult conversations about our needs. ​
There are many important lessons that we have learned from all of this change which is why I felt it was important to share with you. I'm here to tell you, change can be scary and going outside of your comfort zone can be overwhelming at times. If there is a goal that you have, please don't put it on pause or give up on it. Don't wait until another month or another year passes…
We are never promised tomorrow and YOU deserve to live you most fulfilling life!